ejectors
---

Applications

advantages:
- simple way to create a vacuum
- safe and reliable
- no moving Parts, nearly maintenance free
- relatively unexpensive (the condensers are expensive)
- corossion resistant materials available

disadvantages:
- contamination with/of motive fluid

Capacity:
nearly no limitation and two or more ejectors can be arranged in parallel.
Vacuum:
A single stage operating alone will produce pressures in the range of about 50 - 100 mbarA up to atmospheric pressure.
Two stages will produce pressures between 10 mbarA and 100 mbarA, while three stages will produce between 1 mbarA and 30 mbarA.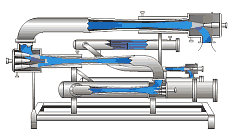 Croll-Reynolds vacuum system with surface type condensers





Körting: vacuum system with spray condensers,
two stages without inter-condenser
spray condensers with barometric legs
4th stage as a lquid ring vacuum pump


Ejectors - FAQ's
---
vacuum ejector manufacturers
vacuum condenser manufacturers
Links
---
HEI Steam Jet Vacuum Systems Troubleshooting Guide
Designing Steam Jet Vacuum Systems
Condensers
---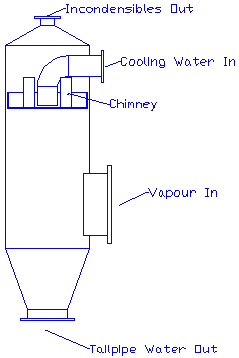 Barometric (Direct Contact) Condensers
The condensing medium (cold water) is in direct contact with the vapour. The amount of cold water required is calculated from an energy balance around the condenser

Condenser Rapid Design (http://www.sugartech.co.za/rapiddesign/condenser/index.php)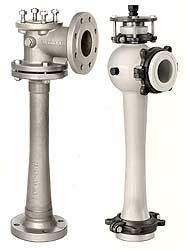 GEA Jet pumps

Terminology:

compression ratio (K) = discharge pressure divided by suction pressure.
(Both pressures have to be expressed in consistent, absolute pressure units.)

expansion ratio (E) = motive pressure divided by suction pressure.
(both pressures have to be expressed in consistent, absolute pressure units.)

Flow ratio = suction flowrate divided by motive flowrate
(both are expressed in consistent mass terms.)