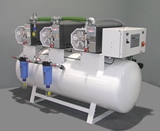 Mil's SAS - www.mils.eu
- 15 rue de Genève - 69746 Genas, France

email: sales@mils.fr, Tel. +33 4 72 78 00 40

Founded in 1926, MIL'S is present in the healthcare sector since 1960, when the first vacuum plant and the first medical air plant were installed in the centralized system of a hospital.
Since then, around 5000 worldwide sites have been equipped with our systems: ISO 9001, ISO 14001 and ISO 13485 certified. All our medical vacuum range is medical CE marked under 2007/47/CE directive and fit with NF EN ISO 7396-1 norm.
products: Rotary vane vacuum pumps, medical vacuum systems, medical air units and oxygen generators

- Vacuum pumps (classic, ATEX or oxygen versions)
- Central vacuum systems for medical use (automatic, mobile, modular)
- Emergency stations for the supply of medical vacuum, air and oxygen

- AGSS anaesthetic gas scavenging systems
- Vacuum systems for laboratories
- Accessories related to medical vacuum (regulation control boards, tanks, filtrations, etc.)