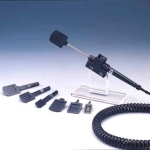 Fluoro Mechanic Co., Ltd - www.fluoro.co.jp
- 7-21-1, Hirai Edogawa-ku, Tokyo 132-0035, Japan

email, Tel. +81-3-3618-0368

products: Vacuum Wand for Semiconductor Wafer Processing

Our unique valve ensures reliable suction and release of a semiconductor wafer.
The well polished inner wall of the valve part minimizes particle generation.
The optically polished wafer tip provides excellent adhesion to a wafer.
The wand body can be easily detached from the tubing.