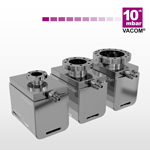 VACOM Vakuum Komponenten & Messtechnik GmbH - www.vacom-vacuum.com
- In den Brückenäckern 3, 07751 Großlöbichau, Germany

email: info@vacom.de, Tel. +49 (3641) 4275-0

VACOM is one of the leading European manufacturers of vacuum technology. As a family business, we are celebrating our 25th anniversary in 2017 an employs today up to 200 staff members.
With our leading brand Precision & Purity we represent high standards in UHV, XHV and UCV. Our core competencies include vacuum hardware, electrical feedthroughs, vacuum measurement, vacuum optics, ion getter pumps together with technologies enabling us to manufacture and clean these components with low outgassing behavior and minimal particle generation including the verification of these characteristics. We manufacture for you on latest machinery in our 2011 erected production and technology center with 800 qm of spacious clean room capacities. Our partners include hightech companies e. g. in the field of analytics, semiconductors, electronics, optics, solar and accelerator technologies. We also work together with renowned research institutes.
products: Ion Getter and Titanium Sublimation Pumps

Titan Sublimation Pumps (TSP), Controllers for Titan Sublimation Pumps
Titanium Sublimation Pumps (TSP) are often used in combination with ion getter pumps, because they have a particularly high pumping speed for some gases. In a TSP, filaments of titanium alloy are heated electrically until the titanium sublimates from the surface of the filaments into the vacuum.
The sublimed titanium precipitates on the surrounding surfaces and forms a thin layer. This layer has a high pumping speed for reactive gases, which are either forming a chemical compound with the layer or being absorbed. With the increasing coverage by these gases, the pumping speed decreases again.
By cooling the surfaces with water or liquid nitrogen, the pumping speed can be further increased considerably. Titan sublimation pumps are particularly suitable for gases such as H2O, CO, CO2, and O2. Using nitrogen cooling, H2 and N2 are also pumped very effectively.