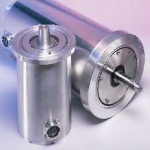 SKF Magnetic Bearings, a unit of SKF Canada Limited,
former Revolve Magnetic Bearings Inc. - www.revolve.com
- 928 - 72nd Avenue NE, Calgary AB Canada T2E 8V9

email: magnetic.bearings@skf.com, Tel. +1 403 232 9292

SKF has been involved with magnetic bearings since 1998 when 40% of Revolve Magnetic Bearings Inc (Revolve) of Calgary, Alberta, Canada was acquired. In 2000 SKF completed the transaction by making Revolve a fully owned subsidiary of the SKF Group. In 2008 SKF expanded its capabilities in magnetic bearing technology by purchasing S2M Magnetic Bearings and High Speed Motors of Vernon, France. The result of these acquisitions has made SKF the global leader in magnetic bearing technology, supply and service.
Products: Magnetic Bearings and Sensors

Hyperspin is a spindle range that includes magnetic bearings, motor (synchronous or asynchronous), housings, controller and cabling. Hyperspin is available in speeds up to 60,000 rpm and power rating from 0.3 to 55 kW.

The shaft has a versatile interface for mounting different types of payload. Shaft extensions can be customized to suit each application's payload requirements whether it's a turbopump impeller or a unique neutron absorbing disk.