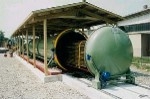 ISVE
- Via San Martino 39, 25020 Borgo Poncarale (BS), Italia

email, Tel.

ISVE offer a wide and complete range of machines adopting the vacuum technology to dry, vaporize, impregnate and handle wood. Besides designing and producing machinery for preliminary treatment of lumber, ISVE makes plants to shred, compact and, where possible, to recycle industrial and urban waste.

Prodotti: Vacuum lumber dry kilns
Vacuum impregnators and vacuum vaporizers for assured and total preservation from fungus, insects, bacteria and mold.
Impregnators and painting machines for fixtures and handmade articles going abroad.