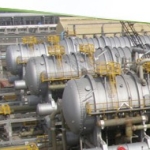 IDE Technologies Ltd. - www.ide-tech.com
Hamatechet St., Hasharon Industrial Park,
P.O. Box 5016, Kadima 60920, Israel

email, Tel. +972 9-8929-777

IDE Technologies Ltd. is a pioneer and world leader in water technologies. The company specializes in the development, engineering, production and operation of advanced desalination as well as innovative industrial solutions.
With more than 45 years of know-how and experience, IDE delivers end-to-end project solutions for its customers throughout the world. Leveraging superior thermal and membrane technologies, IDE specializes in the delivery and operation of various desalination and water treatment solutions.
Today IDE is jointly and equally owned by ICL - Israel Chemical Ltd. (TASE: ICL) and the Delek Group (TASE: DLEKG OTCQX: DGRLY). ICL is a global minerals and specialty chemicals company with an annual turnover of approximately US$6 billion (2008). The Delek Group is one of Israel's largest holding groups with an annual turnover of US$12 billion (2008).
products: Water Desalination, Thermal Distillation

IDE's thermal desalination solutions are robust, cost-efficient and modular, offering capacities ranging from 250 to 25,000 m3/day per unit. Utilizing advanced technologies and know-how developed internally over the last 45 years, IDE's solutions feature the lowest energy usage in the industry. In addition, they are reliable workhorse solutions - in fact, some have been working continuously for decades.

To meet the differing needs of refineries, process industries, power stations, remote development sites and other industries, IDE offers three types of thermal treatment solutions: Multi-Effect Distillation (MED), Mechanical Vapor Compression (MVC) and Industrial Evaporation. All IDE's technologies are tailored to site-specific conditions, enabling the plants to minimize operational and maintenance costs while maximizing functionality and water quality. To reduce power consumption, IDE's thermal distillation solutions employ a proprietary single-or- multi-effect process in which feed water is sprayed over horizontal tube bundles and repeatedly evaporated and condensed under vacuum, each time at a lower temperature and pressure.