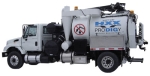 Vactor - A Subsidiary of Federal Signal Corporation - www.vactor.com
- 1621 S. Illinois Street, Streator, IL 61364, USA

email, Tel. +1 815-672-3171

For over 45 years, Vactor has been the leader in building sewer cleaners with technological innovation and custom configurable design. With a rich history that spans most of the century, Vactor Manufacturing continues to be respected as an innovative designer and manufacturer of products using pneumatics. Nearly 10,000 units have been sold worldwide, far more than any other sewer cleaner manufacturers.
products: Vacuum Excavation

Over the years, Vactor firmly established expertise in effective use of high pressure water as well as their core expertise in pneumatic conveyance. Taking these two technologies along with intensive customer input, Vactor designed, engineered and manufactured one of the leading hydro-excavators, the Vactor HXX® Hydro-Excavator.
Hydro-excavation is the safe and productive nondestructive excavation method. Unlike mechanical excavation, there is little chance of damage when water is used to loosen the soil, significantly reducing the safety and financial risks associated with utility or pipe line strikes.