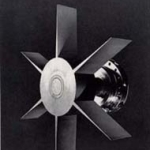 AGC Ceramics Co., Ltd - www.
- Mita NN Building Floor 6, 4-1-23, Shiba, Minato-ku, Tokyo 1080014, Japan

email, Tel.

products: high temperature ceramics fans

AGC Ceramics is a world pioneer in successfully developing high temperature ceramic fans using a ceramic impeller.

- Impeller material is AGC Ceramics's dense silicon carbide "Roiceram-C600". It can blow gases of up to 1250°C.
- Roiceram-C600 has high specific strength (strength/density) and shows no fatigue up to 1250°C. Moreover, its bending strength is the same as at room temperature, and it shows superior performance under high temperature (air volume of 900 cubic meters per minute, outgoing pressure of 20kPa at 20°C Air).
- It can blow air and combustible gas, as well as gases such as hydrogen and carbon monoxide. However, it cannot be used in a chlorine gas or fluorine gas atmosphere.