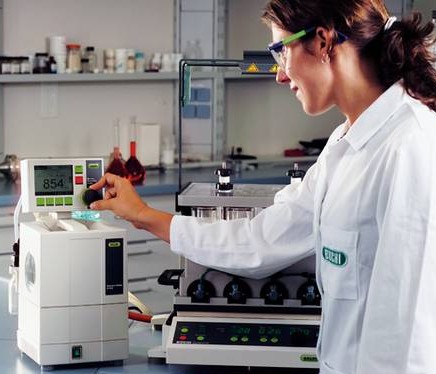 BÜCHI Labortechnik AG
- Meierseggstrasse 40, Postfach, 9230 Flawil 1, Schweiz

email, Tel.

Buchi is a leading world-wide supplier in key technologies such as evaporation and separation for research laboratories as well as near infrared spectroscopy and reference methods for quality control purposes.
Produkte: Buchi Vacuum Solutions
Efficient Vacuum Generation to complement the Rotavapor®
Buchi Vacuum Solutions refers to the range of options we can offer in the field of vacuum generation in the laboratory.
At the heart of these systems are our new oilfree diaphragm Vacuum Pumps V-700 and V-710.
The Vacuum Controller V-850/V-855 ensures precise pump control and vacuum regulation. As systems, together with a pump and a thoughtful range of accessories, these complete units offer customers exceptional performance and value, making laboratory work easier than ever before.
The Vacuum Pump together with the Vacuum Controller V-850 Advanced is a convenient system for all standard applications.
The Professional system is the combination with the V-855 Controller, which covers all requirements of complex applications.
The Vacuum Module EasyVac is a novel system to make automatic distillations whereas the LabVac module is used to build a laboratory vacuum system.