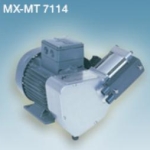 AC Engineering - www.acengineering.co.il
- 11 Netivei Am, Jerusalem, Israel 97522

email, Tel.

AC Engineering, established in 1981, is an innovative and well established product development company with quality, speed and customer service at the core of our corporate culture. Our world-class services support your new product development from conception to production. Over time, we have developed a wide range of products leading to a specialization in disposable pumps.
products: Piston vacuum pumps

The Adahan - MX-MT 7114 Vacuum Pumps are two stage, piston pumps. The patented crank mechanism provides high efficiency, low wear and small size.