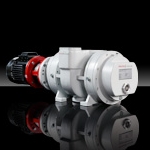 Pfeiffer Vacuum GmbH - www.pfeiffer-vacuum.com
- Berliner Str. 43, 35614 Aßlar, Germany

email: info@pfeiffer-vacuum.de, Tel. +49 (0)6441 802-0

Pfeiffer Vacuum is a vacuum technology world leader for more than 120 years: an important milestone was the invention of the turbopump in our company more than 50 years ago.
Our comprehensive range of solutions, products and services includes vacuum pumps, measurement and analysis equipment, up to complex vacuum systems.
products: Roots Pumps for all Low and Medium Vacuum Applications

The OktaLine series Roots pumps can be perfectly tailored to customer-specific requirements by different pumping speeds and versions. This type of pump needs a backing pump both suited to the application and designed for the gas stream.
The OktaLine G gas-cooled Roots provide additional flexibility: They are ideal for the evacuation of media that must not come into contact with waste water or oils. The gas-circulation-cooled Roots pump can also be operated without a backing pump.