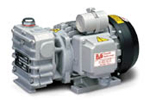 Vacuum Pumps UK - www.
Unit 2, Latchmore Industrial Park, Lowfields Road, Leeds LS12 6DN, United Kingdom

Richard Wollocombe, Sales Director, email, Tel.

Vacuum Pumps UK is the UK's sole agent for the DVP range of vacuum pumps and low pressure blowers.
The UK head office is in Leeds, West Yorkshire where we carry extensive stocks of new and refurbished pumps and spare parts for all major brands of vacuum pumps and blowers.
products: Rotary vane vacuum pumps

Dry Rotary Vane Vacuum pumps and Compressors
Rotary vane pumps with lubrication
Rotary Vane oil bath vacuum pumps, Two stage vacuum pumps