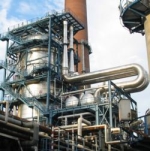 GEA Process Engineering Australia Pty Ltd - www.gea.com
- 49 Railway Road, P.O.Box 42, 3130 Blackburn / Viktoria, Australia

Kim Henriksen, email: gpau@geap.com.au, Tel. +61/3-9875 4000

GEA Wiegand Representation, GEA Wiegand is a worldwide leading company for process technology.
On 01 January 2009 GEA Wiegand's scope of products with evaporation, distillation and membrane filtration technology has been completed by the product range of the former GEA Jet Pumps GmbH consisting of jet pumps, vacuum systems and gas scrubbers.
products: ejectors and vacuum systems

steam jet vacuum pumps, jet pumps,
vacuum/steam jet cooling plants,
condensation plants, vacuum degassing plants,
jet and Venturi scrubbers, evaporation plants.