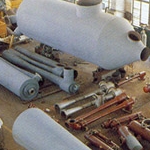 ZHEJIANG HANGZHEN ENERGY TECHNOLOGY Co., Ltd -
- No. 2 XianQiao Road, ZhongTai Industrial Park, YuHang District, HangZhou City, ZheJiang Province, China 311121

email, Tel.

HANGZHEN ENERGY is an innovative vacuum system solution supplier, providing R&D, device manufacturing and EPC service of industrial vacuum system technology.
products: Steam Jet Vacuum System

As the domestic leading supplier of vacuum system solution and energy management service, we fully grasped core technology of steam jet and mechanical vacuum system, and developed series of solution, including the oil refining vacuum systems, chemical industry, metallurgy, petrochemical desulfurization system, steam turbine auxiliary system, space simulation vacuum system, cooling water energy-saving system, which were widely applied in oil refining, chemical refining, petrochemical desulfurization, liquid steel refining, chemical refining, steam turbine auxiliary machinery, aerospace, cooling water system, and we also provide EMC(Energy Management Contracting) service.