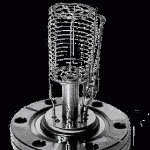 SS SCIENTIFIC LIMITED
- Unit 6, Broad Farm, BN27 4DU Hellingly, United Kingdom

Robin Hathaway, email, Tel.

SS Scientific Ltd is involved in the design, manufacture and distribution of precision components and instrumentation for the vacuum industry.
Our focus is on scientific instruments incorporating precision mechanics, electronics and software, used within a vacuum environment from XHV to plasma processing pressures. SS Scientific Ltd is committed to supply a range of products which cannot be classified as catalogue items. Strong application knowledge and technical support for the vacuum industry is readily available to all our customers.
products: vacuum gauges

vacuum gauges:
SS Scientific offer a range of vacuum gauges, controllers, and a refurbishment service for used ion gauges
SSIG-17 & SSIG-18 ionisation gauge, thermocouple gauge, convectron gauge,
multi-gauge controller, gauge controllers, gauge accessories
>ion gauge head refurbishment:
This service comes with an as new performance guarantee at a fraction of the cost of purchasing a new unit. We specialise in the VG VIG series of gauge heads, but would be pleased to quote for any other manufacturers' head.