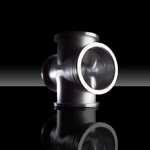 Pfeiffer Vacuum (Shanghai) Co., Ltd - www.pfeiffer-vacuum.com
- Unit B, 5th Floor, Building 3, YouYou Park, 428 Yanggao South Road, Shanghai, 200127, China

email: info@pfeiffer-vacuum.de, Tel. +86 (0)21-33933940

Pfeiffer Vacuum-作为全球领先的真空技术解决方案的供应商之一。我们不仅拥有全系列的混合轴承及全磁悬浮涡轮分子泵, 同时还拥有各种旋片泵,干泵,罗茨泵,氦气质谱检漏仪,真空规,四级质谱仪等产品以及真空管件和综合真空系统。 从普发1958年发明涡轮分子泵至今, 我们在全球分析、研发、镀膜、太阳能、半导体和其他工业领域,始终代表着创新的解决方案、高品质、稳定可靠的产品和一流的服务。公司自1890年创立至今百余年,现有将近2300名员工,20多家分公司遍布全球,并且在德国、法国、罗马尼亚、韩国设有生产制造基地。
products: Viewports

ISO-KF, ISO-K, ISO-F, CF Viewports, CF Shutter
ISO-KF, ISO-K, CF Glass Retainers, Glasses for Retainers

Sightglasses are mainly used to visually observe processes. They can, however, also be used for the specific transfer of electromagnetic waves. For this, the transmission and the optical quality of the glasses should be considered.
We provide suitable types of glass combined with various types of vacuum flange to suit your specific application.