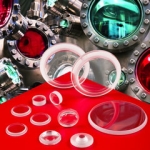 Meller Optics, Inc. - www.
- 120 Corliss St, Providence, RI 02904, USA

email, Tel.

products: Sapphire Viewport Windows

Custom engineered and fabricated sapphire viewport windows that can be metalized, brazed and sealed into Kovar® and stainless steel sleeves are available from Meller Optics, Inc. of Providence, Rhode Island.

Meller Sapphire Viewport Windows feature Moh 9 hardness, which is second only to diamond, and can operate from UHV to 10,000 psi at temperatures from cryogenic to 1,000°C, depending upon configuration. Custom fabricated to assure a reliable seal, they are manufactured to specification with stepped edges and elliptical edge shaping, holes, slots, and wedges for mounting.

Available in flat and spherical configurations from 1/4" to 10" dia. and 1/2 mm to 1" thick with A/R coatings, Meller Sapphire Viewport Windows feature flatness of 0.5 fringes HeNe and parallelism from 20 to 2 arc/secs. Resistant to chemicals (fluorine to 300°C) and most acids, these sapphire viewports are impervious to water, blowing dirt, and sand.