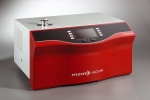 Vacuum Products Canada Inc. - www.pfeiffer-vacuum.com
- 561, Rue Toulouse Lautrec, Granby, QC J2J 0C6, Canada

Jean-François Poncelet, Pfeiffer Vacuum representative
email: info@phivac.com, Tel. +1 (450) 994-0673, mobile +1 (514) 292-2469

Pfeiffer Vacuum is a vacuum technology world leader for more than 130 years: an important milestone was the invention of the turbopump in our company more than 50 years ago.
Our comprehensive range of solutions, products and services includes vacuum pumps, measurement and analysis equipment, up to complex vacuum systems.
products: Leak Detectors

Pfeiffer Vacuum leak detectors trace every leak. No leak is too small or too big to escape our leak detectors. It doesn't matter whether you are looking for water, oil, fuel, refrigerant, gas, steam, air or vacuum leaks. From miniature electronic units right up to large-volume vessels, from media escaping from vacuum systems to gases entering them - the uses for leak detectors are as broad as the range of industrial products. The extensive range of Pfeiffer Vacuum leak detectors provides the answer for all these requirements.