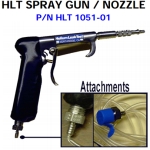 Helium Leak Testing, Inc. - heliumleaktesting.com
- 19348 Londelius Street, Northridge, CA 91324, USA

email, Tel.

products: Helium Leak Testing Spray Gun-Nozzle

Helium Leak Testing, Inc. spray probes are ideal for use in maintenance or production leak detection applications requiring external helium spraying.
Our selection of rugged, leak-tight, spray probes are designed for immediate use and ready to handle your applications.