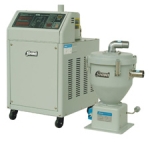 SHINI - www.shini.com
- 23 Minhe Street, shuin city, Taipei, Taiwan

email, Tel.

With corporate headquarters and factory based in Taipei Taiwan, Shini Group has established factories, sales and service offices in Mainland China, possesses more than 1,000 employees and 100,000 M2 floor spaces. With annual production more than 70,000 units and product sold to more than 50 countries and territories around the world, Shini plays a very important role in plastics auxiliary equipments industry.
Products:
Conveying & Mixing: SHINI feeding and conveying series is intended for decreasing manual handling and improving efficiency. Digital microprocessor control, automatic cleaning and shortage alarm are included. Closed-loop conveying process reduces material waste, avoids moisture re-absorption of the dried material and is a best system for dust free operations.
Separate Vacuum Conveying: The conveying units feature separate floor- mounted vacuum units and control panel.
Centralised Vacuum Conveying: We design, install and commissioning the most practical Centralised conveying system to meet your various molding applications. Centralised systems can keep your working environment free from noise and dust. The material(s) can be centrally processed and then flexibly conveyed in a closed environment. The Centralised system can also control every action of the stations even if they are at a far distance.