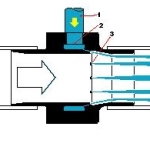 Fiktech B.V. - www.fiktech.nl
- Goudreinette 15, 6922AE Duiven, The Netherlands

André Fikkers, email: afikkers@fiktech.nl, Tel. +31 316 285 264

FIKTECH's main activities: Industrial Dust- & fumecontrol, Production optimization & Management. FIKTECH - Fikkers Industrial Knowhow & Techical solutions - has over 30 years of experience in solving a wide range of technical problems in virtually every industry. Thanks to specific knowledge in the area of industrial dustcontrol and the processindustry, we quickly recognize production problems and bring realistic solutions. FIKTECH consults, engineers, supplies components and manages projects up to turnkey. FIKTECH assesses the problems in close cooperation with the customer and offers practical and affordable solutions.
products: HD Inline, pneumatic / vacuum conveying

HD Inline, vacuum conveying, vacuum generator, vacuum pump, air knife, air knives vortex cabinet cooler, spotcooler, ATEX vauumcleaner, vibrating pads, airbrator, venturi eductor, lensjagers.

The HD Inline is a simple and low-cost solution for conveying a broad range of products. Materials are drawn in and accelerate through the unit at long vertical or horizontal distances.
Applications: Transport of granulate, tablets, small particles, scrap trim, filling and emptying, plastics, chemical/ pharmaceutical products, foodstuff, chips etc.