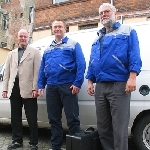 Lauvatec e. K. - www.lauvatec.de
- Bahnhofstraße 26, 03229 Luckaitztal OT Schöllnitz , Deutschland

Thomas Dirrwald, email t.dirrwald@lauvatec.de, Tel. +49 (0)35434 66 950

Products: Sizing, engineering and installation of individual vacuum systems

Everything is possible, from a small pumping station with one vacuum pump to complex vacuum systems with different vacuum ranges and a large number of vacuum pumps.
Our focus is on systems for the vacuum packaging of food, including the corresponding electrical control using SPS, LOGO or a simple digital vacuum switch.