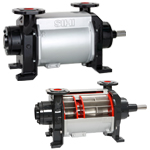 Sterling SIHI GmbH - www.sterlingsihi.com
- Lindenstrasse 170, 25524 Itzehoe, Germany

email: sales@sterlingsihi.de, Tel. +49 (4821) 771-01

products: liquid ring vacuum pumps

The Sterling SIHI range of liquid ring vacuum pumps is available in single and two stage designs, with suction capacities up to 12000 m3/h and suction pressures in the range 33 to 1013 mbar.

The new SIHI LPHX range (LPH interchangeable) is certified for the ATEX legislation (Category 1 and 2). Typical markets for SIHI LPH-X include the process industries (e.g. chemicals, fine chemicals, food and beverage production, plastics processing), electronics manufacture, health care and marine.