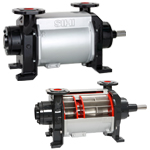 Sterling Fluid Systems (UK) Ltd. - www.sterlingsihi.com
- Atlantic Street, Altrincham, WA14 5DH Cheshire, United Kingdom

email: uksales@sterlingfluid.com, Tel. +44 (1619) 28 63 71

Shaun Hampson, email: shaun_hampson@sterlingfluid.com,

Sterling Fluid Systems (UK) operates out of it's modern facility in Altrincham, Cheshire and is member of the Sterling Fluid Systems Group of pump companies with some of industry's strongest vacuum and liquid centrifugal pump brands including SIHI and LaBour
products: liquid ring vacuum pumps

The Sterling SIHI range of liquid ring vacuum pumps is available in single and two stage designs,
with suction capacities up to 12000 m3/h and suction pressures in the range 33 to 1013 mbar.
The new SIHI LPHX range (LPH interchangeable) is certified for the ATEX legislation (Category 1 and 2)
Typical markets for SIHI LPH-X include the process industries (e.g. chemicals, fine chemicals, food and beverage production, plastics processing), electronics manufacture, health care and marine.