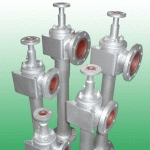 Jet Flow Technologies UK Ltd. - www.jetfloweurope.com
- 128 City Road, London EC1V 2NX, United Kingdom

email: sales@jetfloweurope.com, Tel./Whatsapp: +44 740 523 4664

With our strategic partnership with Jet Flow Technologies, India, you have the option to buy, either Made in India or Made in Europe or both from a single window. Jet Flow solutions find applications in all major industrial sectors. Customized solutions are the key to success. Jet Flow can supply equipments with 'U' and 'NB' stamping, registration with AS1210, CRN, GOSHT, DOSH and offer inspection under any TPI.
products: Steam Jet Air Ejectors, Multi Stage Steam Jet Ejector vacuum systems, Surface Condenser

Steam Jet Boosters, Condensing systems, Thermocompressors, Combination Vacuum Systems of Steam Jet Ejector and Liquid Ring Vacuum Pumps, Feedwater Heaters, LP / HP Heaters, Gland Steam Condensers, Shell & Tube Heat Exchanger, Dump Condensers, Steam Jet Liquid Heaters, Air Jet / Liquid Jet / Vapour Jet / Gas Jet Ejectors, Liquid Ring Vacuum Pump, Jet Heater / Mixers, Jet Ventury Scrubbers, Steam Conditioning Valve, PRDS, Steam Desuperheater, Multi Nozzle Desuperheater, High Pressure Control Valve, Cage Guided Globe / Angle Type Control Valve etc.

applications: Power Stations, Edible Oil Industry, Chemical Industry, Energy from Waste, Fertilizer, Steel Degassing, Water Treatment, Seawater Desalination, Paper Industry, Polyester Plants, Petroleum Refineries, Bio Gas etc.