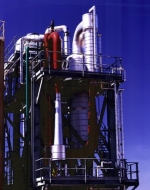 GRAHAM Corporation -
- 20 Florence Avenue, Batavia NY 14020, USA

email, Tel.

Graham Corporation is engaged in the design and manufacture of vacuum and heat transfer equipment, primarily custom built. It consists of two segments: one operated by the Company in the United States, which supplies steam jet ejector vacuum systems, surface condensers for steam turbines, liquid-ring vacuum pumps and compressors, dry pumps and various types of heat exchangers, such as Heliflow and plate and frame exchangers and one operated by its indirectly wholly owned subsidiary in the United Kingdom, Graham Precision Pumps Limited (GPPL), which manufactures liquid-ring vacuum pumps, rotary piston pumps, oil sealed rotary vane pumps, atmospheric air-operated ejectors and vacuum pump systems that are factory assembled with self-supporting structure. Products are available in all metals and in non-metallic and corrosion-resistant materials.
Products:

Graham is a provider of products and services to the power generating industry with its surface condensers for turbine-generator service, steam jet ejector and liquid ring pump systems for condenser exhauster applications and heat exchangers for various services. Waste to energy (including landfill methane to energy), cogeneration, nuclear, geothermal, combined heat and power and combined cycle power generating facilities require our products.