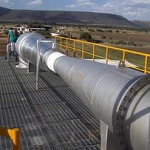 Ingeniería Bernoulli S.A. - www.ibernoulli.com
- Eduardo Costa 1220, Acassuso, B-1641-AFP, Bs. As - Argentina

email: info@ibernoulli.com, Tel. +54 11 4792-0392

J.M. Pedroni & Asociados S.A. was widely known since 1965 as provider of ejectors, vacuum systems, jet devices, gas scrubbers. Ingeniería Bernoulli S.A has recently developed new equipments: agitated thin film evaporators, molecular destilators, thermal deaerators and freeze dryers, and will continue with the same commitment thanks to its broad experience and services running in compliance with ISO 9001-2008 international standards.
products: Ejectors and vacuum systems


Ejectors, Thermocompressors, portable pneumatic jet fans, jet blowers, exhausters, eductors, siphons, desuperheaters, superheaters, aireators


Equipment for the oil and fat industries, for the oil and petrochemical industries, Lecithin drying, short path distilers, sanitation equipment.