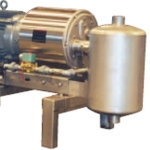 Lyco Wausau, Inc.
- 2305 Ridgeview Dr., P.O. Box 2022, Wausau, WI 54402 2022, USA

email, Tel.

Lyco Wausau is a USA company that has specialized in making stainless steel, liquid ring vacuum pumps since 1973. We sell worldwide for food, pharmaceutical, chemical, medical, laboratory and general industrial applications where corrosion resistance is beneficial.
products: stainless steel vacuum pumps

stainless steel liquid ring vacuum pumps and systems, 3 to 20 HP, vacua to 29"Hg. - also Hastelloy® and Titanium available.