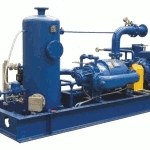 Gardner Denver Nash LLC - www.gdnash.com
- PO Box 130, Bentleyville, PA 15314, USA

email: nash@gardnerdenver.com, Tel. +1 724-239-1500

Nash™ - Over 100 Years of Expertise
With more than 100 years experience as NASH, we are the world's leading supplier of liquid ring vacuum products that meet your vacuum and compressed gas needs.

Gardner Denver Nash provides global service and technical support for liquid ring vacuum pumps, compressors, ejectors, and engineered systems through our technical centers, manufacturing plants and service centers strategically located around the world.
products: Liquid Ring Vacuum Pumps

Gardner Denver Nash offers a wide range of products including liquid ring vacuum pumps and gas compressors.

Uniquely designed engineered systems are also provided to meet specific needs in vent gas, digester gas, condenser air removal, Pulp and Paper, Chemical Process applications.