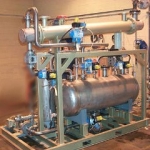 Wintek Corporation - www.wintek-corp.com
- 7 Middlebury Blvd, STE2, Randolph, NJ 07869, USA

email: sales@wintek-corp.com, Tel. +1 (973) 252-8200

Wintek has extensive experience in applications requiring vacuum in process industries including the chemical, environmental, food, pharmaceutical and plastics industries. We review your application and requirements, and explain the advantages and/or disadvantages of each type of vacuum pump so that you can understand our recommendation. Our focus is on vacuum pump reliability in your application at a reasonable cost.
products:

Solvent Recovery Vacuum Systems, Vapor recovery vacuum systems,
Boosted (high vacuum) liquid ring vacuum systems, Steam jet / liquid ring hybrid vacuum systems,
Oil lubricated rotary vane vacuum pumps, Once-thru-oil (OTO) vane vacuum pumps,
Dry Vacuum pumps.