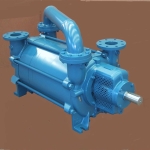 GRAHAM Corporation -
- 20 Florence Avenue, Batavia NY 14020, USA

email, Tel.

Graham Corporation designs and builds vacuum and heat transfer equipment for process industries throughout the world and is a worldwide leader in vacuum technology.
Principal markets served include the chemical, petrochemical, petroleum refining, and electric power generating industries, including cogeneration and geothermal plants. Other markets for Graham equipment are metal refining, pulp and paper, shipbuilding, water heating, refrigeration, desalination, food processing, pharmaceuticals, heating, ventilating, and air conditioning.
products: Liquid ring vacuum pumps

Graham's single and two-stage vacuum pumps are designed to be rugged and simple to operate.
You have a wide choice of materials to match your processes. Standard pumps are available in cast iron, steel or stainless steel; while our COR-RESIST series is available in nickel, aluminium bronze, Hastelloy, alloy 20, ni-resist, titanium, duplex stainless steel, as well as other alloys.