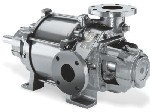 NASH, Gardner Denver Liquid Ring Pump Division - www.
- 9 Trefoil Drive, CT 06611 Trumbull, USA

email, Tel.

Providing vacuum pumps that make paper at less cost and higher quality is a nash_elmo specialty. Gardner Denver Nash is a industry leader in engineered vacuum systems and water removal for paper machines (Black Liquor Evaporation, Brown Stock Washers, Lime Mud & Precoat Filters, Dregs Filters, Deckers, Stock and Whitewater Deaeration Systems, Headbox Compressor/Vacuum Pump, Flatboxes, Couch Roll, Suction Pickup & Transfer Rolls, Suction Press, Uhle Boxes, Anti-Blow Box).
products: Liquid ring vacuum pumps and compressors