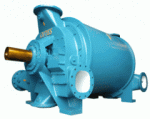 VAKUO GmbH vacuum pumps and systems - www.vakuo.com
- Max-Planck-Str. 9, 61381 Friedrichsdorf, Germany

email: info@vakuo.com, Tel. +49 (6172) 137 132

VAKUO GmbH design and manufacture vacuum pumps and complete vacuum systems for the pulp and paper industry.
products: vacuum systems for the paper industry

Liquid ring vacuum pumps up to 400 m3/mn (up to -90 KPa), replacement pumps and spare parts

Roots vacuum blowers up to 350 m3/mn (up to -50 KPa), replacement blowers and spare parts

Centrifugal fans up to 500 m3/mn (up to -20 KPa), replacement fans and spare parts

complete vacuum systems including pre-separators, extraction pumps, cooling towers,..