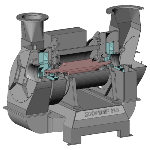 Runtech Systems OY -
- Kastarintie 27, 35990 Kolho, Finland

email, Tel.

Ecopump is a company specializing in vacuum system technology and dewatering monitoring in pulp and paper industry applications. Our products are developed together with our customers to meet their needs for pragmatic, reliable and accurate tools for improving the papermaking performance.
products: vacuum systems and dewatering monitoring

Ecopump Oy provides the Ecopump Turbo EP-315, a rotor electric motor with frequency converter and the Ecopump Turbo EP-500 for vacuum system optimization.
In addition, it offers vacuum system engineering services and vacuum energy efficiency optimization consulting services.

Ecopump 315 Turbo blower solution offers following benefits:
- Very low power consumption due variable speed and high impeller efficiency. We have experienced 20-70% savings in power consumption in the real life installations.
- Turbo does not need seal water. Mills may have shortage of water – and even in closed circulation, the water treatment process costs money.
- No corrosion problem due stainless steel or titanium construction. System can easily stand even the most aggressive process environment.
- Compact and lightweight construction make it easy to place in the mill floor

In addition it offers Ecoflow for the forming and press section, a meter that measures the amount of water leaving the dewatering point and leads it back into the process:
Ecoflow P3, monitors press section dewatering; Ecoflow EXT, which produces a surface level proportional to the volume flow.
Ecoflow B for concrete water separator; Ecoflow Multi, a measuring system for vacuum systems with a seal pit tank.
Ecoflow F for measuring of wire sections; Ecosep, water separator; Ecodrop, provides a means of enhancing water separation and Automatic Felt Control, avoids excessive vacuum levels in the uhle boxes.