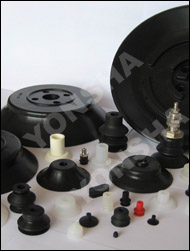 Yonsha Rubber & Plastic Manufacture ( China ) Co., Limited - www.yonsha.com
- Rm.606-607, No.1599 Huangxing Rd, Yangpu District Shanghai China 200433

Tel. +86-21-55091019

Yonsha has its own factory and produces Suction Cups, Vacuum Cups, Suction pads, Vacuum pads, Hand Suction Cups, Hand Cups, Vacuum Pens, Air Pincette, Air Vacuum Pumps, Generators, Ejectors. Most products are on stock.
products: Vacuum Suction Cups

Yonsha produces suction cups diameters from 1.5mm to 380mm. They can be divided into mini suction cups, flat vacuum cups, bellow suction cups, oval suction cups, bakery suction pads, CD vacuum pads, egg suction cups, high temperature vacuum cups, sponge suction pads, cheese handling vacuum pads, paper suction cups and hand suction cups.
More than 300 spieces in all. And we can also make moulds and produce suction cups according to your samples or detailed drawings.