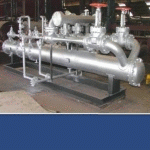 Mazda Limited - www.mazdalimited.com
- 650/1, Panchwati 2nd Lane, Ambawadi, Ahmedabad 380 006, India

Mr. Surojit Mondal, email: info@mazdaheat.com, Tel. +91 33 2221 5231

Mazda Limited was founded in 1973 and listed in Indian stock exchange. We design, manufacture and market Vacuum Systems, Heat Transfer and other highly engineered products and sub-systems used in the Power, Paper, Sugar, Steel, Edible oil, Petroleum Refinery, Petrochemicals, Fertilizers, Bulk Drugs, Process and industrial markets with four manufacturing units covering area over 400,000 sq ft.

Certifications: ASME U, CE / PED, ISO 9001:2008, ISO 14001:2004, OHSAS 18001:2007, GOSHT / RTN, DOSH, CRN / CSA, The National Board, DUNS & Bradstreet, AS1210-1997, IBR.
products: Steam Jet Ejectors, Single / Multi Stage Steam Jet Ejector vacuum systems

Vacuum Degassing Systems / Steel Degassing Systems (VD & VOD),
Thermo-compressors
Heat Exchangers, Water Cooled Surface Condensers, Feed Water Heaters, Low Pressure Heaters, High Pressure Heaters, Gland Steam Condensers, Dump Condensers, Condensing Package, Oil Coolers, Inter / After coolers,
Hogger Ejectors with Silencers, Combination Vacuum Systems of Steam Jet Ejector and Liquid Jet Ejectors, Jet Condensers, Steam Jet Evaporative Water Chillers, Steam Jet Liquid Heaters, Air Jet / Liquid Jet / Vapour Jet / Gas Jet Ejectors, Single / Double Stage Liquid Ring Vacuum Pump, Mixers, Turbine extraction systems, Evaporation Plants, Scrubbers, Crystallizers and Tanks etc.