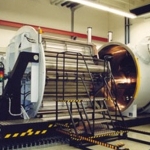 Sidrabe, Inc. -
- 17 Krustpils Str., Riga, 1073 Latvijas Republika

email, Tel. +371 7249806

Since 1962 Sidrabe has been manufacturing vacuum deposition equipment and developing unique technological processes for production, pilot and R&D coaters. Sidrabe R&D Department is capable of performing unique contract research. Our Metallization shop offers contract coating.
products: Vacuum deposition machines and processes for Webs (Non-metal webs, Metal webs), Glass, Powders, 3D Parts.

Vacuum machines and processes for Solar materials, Battery materials, Display materials.
Components, Sputter magnetrons, Pretreatment devices, Evaporation devices
Special equipment: Drying machines, Laminators