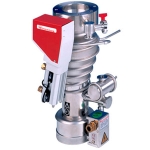 Edwards vacuum -
- Manor Royal, Crawley RH10 2LW, United Kingdom

email, Tel.

Edwards is the world leader in vacuum technology for semiconductor, industrial and scientific applications. The company is engaged in the development, manufacture and support of a wide range of vacuum pumps, systems, boosters and accessories based on a number of technologies and capable of achieving high vacuums down to 10-7 mbar.
Edwards pioneered the oil-free dry pump, originally for the semiconductor industry and now markets a series of dry pumps using claw, roots, scroll and combined mechanisms. Other pumping technologies include rotary vane, vapour diffusion, turbomolecular, cryogenic and sputter-ion.

products:Vapour Diffusion Pumps
Rotary vane and dry pumps can produce ultimate pressures of 10-2 to 10-3 mbar, though the ultimate achievable vacuum may be reduced by factors such as big gas loads. Yet many processes, including ones with significant gas loads, require pressures even lower than 10-3 mbar.
For such applications, high and ultra-high vacuum devices such as vapour diffusion pumps, turbomolecular pumps or cryopumps are required. Because of the enormous pressure differentials involved, these pumps cannot exhaust directly to atmosphere. Therefore, a backing pump – typically a rotary vane or rotary-booster combination – must be used in conjunction with these pumps.
In a diffusion pump, a suitable fluid is vaporised in the boiler of the pump at 200-250oC and the vapour is sprayed into the pump through high velocity jets incorporated in the interior of the pump. Gas entering the inlet of the pump is diffused in the vapour stream and transferred to the outlet of the pump. The vaporised fluid is condensed and returned to the boiler where the cycle is repeated.
Edwards has the most comprehensive range of vapour pumps and accessories of any supplier, including a dedicated series for CRT applications.