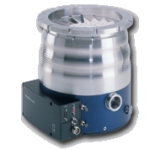 Pfeiffer Vacuum GmbH - www.pfeiffer-vacuum.com
- Berliner Str. 43, 35614 Aßlar, Germany

email: info@pfeiffer-vacuum.de, Tel. +49 (0)6441 802-0

Pfeiffer Vacuum is a vacuum technology world leader for more than 130 years: an important milestone was the invention of the turbopump in our company more than 50 years ago.
Our comprehensive range of solutions, products and services includes vacuum pumps, measurement and analysis equipment, up to complex vacuum systems.
products: Turbomolecular vacuum pumps

Pfeiffer Vacuum turbopumps are available for pumping speeds of between 10 and 2,700 liters per second.
These pumps will win you over with their high cost-efficiency and flexibility. Pfeiffer Vacuum turbopumps with their optimized reliability use proven bearing systems which are available in two different options - a hybrid bearing system with a combination of a ceramic ball bearing on the forevacuum side and a permanently magnetic radial bearing on the high vacuum side, and a fully, active magnetic bearing system in which the rotor is levitated with no contact or wear at all. Thanks to the sophisticated rotor design, extremely high pumping speed, critical backing pressure and gas throughput values are achieved as well as very good compression values for light gases.