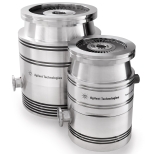 Agilent Technologies UK Ltd. - www.agilent.com
- 6 Mead Road, Oxford Industrial Park, Yarnton, Oxford OX5 1QU, United Kingdom

email: vpt-customercare@agilent.com, Tel. +44 1865 291570

Agilent Vacuum Products Division (VPD), formerly Varian Vacuum, is a global supplier with a complete range of vacuum pumps, leak detectors, components and accessories to create, control, maintain and measure vacuum.
products: Turbomolecular Pumps

Agilent Turbomolecular Pumps are designed for reliability and optimum performance in the most demanding research, industrial and analytical applications.

The Agilent TwisTorr Family, including 84, 304, 404, 704 and 804 FS pumps, is our most recent innovative high-vacuum pump platform. The platform combines TwisTorr drag stage technology and Agilent Floating Suspension. TwisTorr drag stages create high compression ratios for light gases such as hydrogen and helium and deliver high throughput and high foreline pressure tolerance, letting you use smaller and more economical backing pumps. The Agilent Floating Suspension system reduces noise and vibration, ensuring optimal bearing operating conditions to minimize system downtime and safeguard stability.