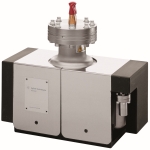 Agilent Technologies, Vacuum Products Division - www.agilent.com
- 121 Hartwell Avenue, Lexington, MA 02421, USA

email: vpl-customercare@agilent.com, Toll-Free: +1 800 882 7426, Tel. +1 781 861 7200

Agilent Vacuum Products Division (VPD), formerly Varian Vacuum, is a global supplier with a complete range of vacuum pumps, leak detectors, components and accessories to create, control, maintain and measure vacuum.
products: Ion pumps
Agilent Vacuum Products Division, formerly Varian Vacuum, invented ion pumps and so it is no surprise that the company has an unequaled wealth of experience in high- and ultrahigh vacuum technology.
We offer a complete family of Diode, Noble Diode and Starcell Pumps to meet all the different requirements of pumping getterable and noble gases. In addition, combination pumps with the Titanium Sublimation Pump (TSP) option deliver extrahigh pumping speeds.
Agilent provides a full range of ion pump controllers, including the newly introduced single channel control unit IPCMini, 4UHV multichannel control unit, and TSP control unit for titanium sublimation pumps.