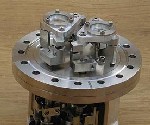 Scientec Engineering - www.scientec.nl
- Valkstraat 38, 3882 HV Putten, Nederland

Caspar Bruineman, email: info@scientec.nl
Tel. +31 (341) 363216, mobile +31 (6) 28834190

Scientec started in 1998 as a general engineering supplier and has since then specialized in UHV compatible design and prototyping.
Producten: Custom Engineering

Specialized in design and prototyping of custom UHV compatible mechanisms and instruments.
Manufacturer of EUV metrology equipment for narrow band intensity measurements at 13.5 nm.
Manufacturer of a range of compact UHV compatible tilt stages allowing air side micrometer adjustment of optics mounted at the tilt stage in vacuum.