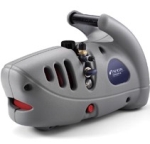 INFICON - www.inficon.com
- Two Technology Place, East Syracuse, NY 13057, USA

email, Tel.

INFICON is a leading developer, manufacturer and supplier of vacuum instrumentation, critical sensor technologies and process control software, with an emphasis on process engineering expertise, for the semiconductor and related industries. These analysis, measurement and control products are vital to original equipment manufacturers (OEMs) and end-users in the complex manufacturing of semiconductors, flat panel displays, magnetic and optical storage media and precision optics. INFICON also provides essential instrumentation for gas leak detection to the air conditioning/refrigeration industries and toxic chemical analysis for emergency response and security markets. In addition, INFICON sells to vacuum pump manufacturers who act as distributors to small and medium-size customers in diverse markets.
products: INFICON SHARK Vacuum Pump
The INFICON SHARK Vacuum Pump is designed for the Service Professional for quick deep evacuation, simplified maintenance/repair, and durability.
SHARK is a two-stage rotary vane pump, with 6 cfm rated displacement for ultimate vacuum down to 15 microns. The pump, with features such as a large oil capacity, gas ballast, internal oil pump, and fan, allow service technicians to make easier, more efficient service calls. The unique molded design of SHARK allows for easy carrying to the job while giving extraordinary durability.
Tools for HVAC, Refrigeration / Automotive Service:
Carbon Monoxide Meters, Combustible Gas Leak Detectors, Manifold Gauge Sets, Refrigerant Charging Scales, Refrigerant Leak Detectors, Refrigerant Recovery Machines, Ultrasonic Leak Detectors, Vacuum Gauges, Vacuum Pumps