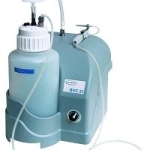 JOHN MORRIS SCIENTIFIC PTY LTD - www
- Warren Brooks, 89-93 Whitehorse Road, Balwyn, Victoria 3130 - Melbourne, Australia

email, Tel.

products: Vacuubrand's new BioChem-VacuuCentre, the BVC 21 NT
The BVC 21 NT is a redesigned version of Vacuubrand's stand-alone bio-fluid aspirating system. Classic applications include removing supernatants and other fluids from Petri dishes, micro titration plates and cell culture flasks.
The BVC 21 NT is ideal for safe fluid aspiration in chemistry, biochemistry, biology and medicine. The BVC 21 NT ergonomic hand controller is compatible with most pipettes and tips.
The HEPA filter prevents bacteria from escaping the autoclavable collection bottle, thereby protecting the vacuum pump and ensuring user safety.
An automatic vacuum switch controls the pump according to demand, removing the need for a foot pedal and providing a predominantly silent solution.
The BVC 21 NT's thumb-wheel control for micro-litre precision provides sensitive control of fluid aspirations. The variable speed vacuum control prevents foaming of sensitive substances and powerful aspiration when high performance is needed.