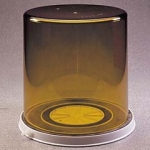 Nalge Nunc International - www.nalgenelabware.com
- 75 Panorama Creek Drive, Rochester, 14625, USA

email, Tel.

Our products are durable, break-resistant, lightweight, and just the right dimensions for your lab. We offer an incredible range of sizes and shapes - we're sure that there is one that is an exact match for your demanding application. NALGENE bottles are lighter in weight than glass and protect against leakage, breakage, and contamination. Our products offer your laboratory a safer alternative without sacrificing the accuracy you need. From tiny dropper bottles to large carboys, you always get high-quality, re-usable plasticware when you use our laboratory products.
products: Vacuum chamber systems
Vacuum Chambers, polycarbonate or polyetherimide jar, white polypropylene or white polycarbonate plate
Vacuum chamber systems include a transparent jar and gasketed vacuum plate with a tubing adapter that fits 1/4-in. I.D. tubing