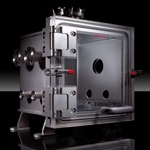 Pfeiffer Vacuum Inc. - www.pfeiffer-vacuum.com
- 24 Trafalgar Square, Nashua NH 03063-1988, USA

email: info@pfeiffer-vacuum.de, Tel. +1 (800) 248-8254

Pfeiffer Vacuum is a vacuum technology world leader for more than 130 years: an important milestone was the invention of the turbopump in our company more than 50 years ago. Our comprehensive range of solutions, products and services includes vacuum pumps, measurement and analysis equipment, up to complex vacuum systems.
products: Standard Vacuum Chambers, Customized Vacuum Chambers

The centerpiece of a vacuum system is the vacuum chamber which matches perfectly to the application. Vacuum chambers from Pfeiffer Vacuum meet the most demanding quality and engineering requirements to achieve vacuum solutions which are perfectly tailored to our customers' specification. They are used for medium vacuum right up to ultra-high vacuum and can also be designed, built and tested as a pressure vessel for an overpressure level above 0.5 bar in line with the pressure equipment directive (97/23/EC).
Pfeiffer Vacuum is a one-stop supplier for all stages of the process: assistance in finding the right solution for your application, design, manufacture, quality assurance, installation and on-site service.