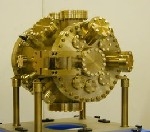 Vinci Technologies SA, former MECA 2000 - meca2000.vinci-technologies.com
- 27 B, rue du Port, 92022 Nanterre, France

email: vincinet@vinci-technologies.com, Tel. +33(0)1 41 37 92 20

Since its creation in the early 1980s, Meca 2000 has produced Ultravacuum chambers, deposit, analysis and sample transfer systems for public (CNRS, CEA, industrial) and foreign research laboratories. The particularity of Meca 2000 is to produce unique systems, in the form of prototypes, in close collaboration and according to the needs of its customers.
Produits: Composants et systèmes pour le vide ultime et l'ultravide
PVD-4: 4-source evaporator by Joule effect / 3-source cathode sputtering
PVD-10: Evaporator up to 10 cells for organic and inorganic materials / Cathode sputtering 4 sources
PVD-20: Evaporator for organic / inorganic materials by thermal sources and electron gun
PVD-50: Multi-source sputtering deposition system
COEVAP-450: UHV evaporation system using electron guns and MBE type effusion cells
PLD-350: Compact multi-source HV or UHV Laser Ablation System
PLD-950: Multi-source UHV Laser Ablation System
MECATRANS: Sample transfer tunnel under ultra-high vacuum