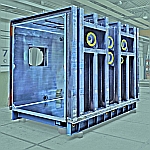 SBS Metalltechnik Dresden GmbH - www.sbs-metalltechnik.de
- Bosewitzer Str. 20, 01259 Dresden, Germany

email: metalltechnik@sbs-dresden.de, Tel. +49 351-2041-500

SBS Metalltechnik GmbH Dresden has been working in mechanical, metal and steel construction for more than 125 years. We are active as a supplier of vacuum chambers and vacuum equipment of all leading European plant manufacturers. 2008, building Europe's largest vacuum chamber, we proved to be as an excellent partner in one of the most demanding technology fields.
products: vacum chambers
We manufacture vacuum chambers in different sizes (up to 50 Tons) and made of carbon steel, stainless steel and aluminum, for all applications.
Our range of services includes Design and Engineering, Project management, as well as vacuum testing, assembly and commissioning.
We have the corresponding welding approvals for carbon- and stainless steel, and are ISO 3834-2, DIN EN 1090-2 (EXC 3) and ISO 9001: 2008 certified.