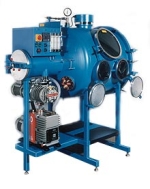 Glove Box Technology Ltd - www.glovebox.co.uk
- Unit 6 Brunel Court, Burrel Road, St. Ives, Huntingdon, Cambs. PE27 3LW, United Kingdom

email, Tel. +44 (0)1480 496108

Glove Box Technology Ltd. is a UK based company with its origins in the nuclear industry, specialising in the design and manufacture of inert gas glove boxes.
products: Vacuum glove boxes

Vacuum chamber glove boxes are designed to enable a loaded glove box to be evacuated, to effect an environmental change from air to inert gas rapidly and efficiently, and have the added advantage of out-gassing the containment and loaded contents in the process.
Vacuum chambers can be designed and manufactured from about 90 cm in diameter, which accommodates both gloves and window comfortably, up to 200 cm diameter but with reduced physical access.
Full gas management and monitoring facilities can be supplied.