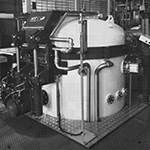 HTS Vacuum Furnaces Srl - www.htsfurnaces.com
- Via Bergamo, 2 - 24050 Mozzanica (BG), Italy

email: sales@htsfurnaces.com, Tel. +39 03 633 40 124

HTS produces, repairs and sells industrial vacuum and high vacuum furnaces for the heat and surface treatment of metals. The work done in synergy with experts in the areas of heat treatment, metallurgy and steels, and our constant commitment to the research and development of new technological solutions, enable us to offer an excellent product and service.
products: Vacuum and high Vacuum Furnaces

for the heat and surface treatment of metals, braze welding and sintering.

Our vacuum furnaces, sintering furnaces and brazing furnaces are ideal for applications where treatments must comply with specific standards, especially in strategic sectors such as aviation & aerospace, energy, automotive, dies and tools or in all fields where research and development are crucial to reinforcing competitiveness.